Growth Hub funding helps local events company to shine
October 3, 2017
Brother and sister team Jenny Walker and Jason Garner have secured funding from Stoke-on-Trent and Staffordshire Growth Hub to meet the growing demand for their events planning business, Lumiere.
The pair began trading as LG Events Ltd in March 2014, working from a small office in an enterprise centre in Burslem. However, it soon became clear that without a bigger space and a retail presence, they wouldn't be able to cope with the surge in demand for their services. As a new business, the duo turned to the Stoke-on-Trent and Staffordshire Growth Hub to see if there was any assistance available to help them expand. The Growth Hub Advisors, operated by the Staffordshire Chambers of Commerce, quickly put them in touch with Jackie Millward at The Business Innovation Centre (BIC), who helped them to secure a Small Business Grant to cover 33% of the cost of expanding the business.
Jackie explained: "Our initial visit to Lumiere was at their premises in Burslem. They were working out of a very small room, which was hindering the growth of the business. The BIC helped them with business advice and helped identify alternative accommodation and funding the renovation and equipment costs to be able to employ additional staff."
After a few months of working with The BIC on their business plans and application, LG Events were granted £5000 towards the costs of moving to a new retail premises, which included rebranding the business as Lumiere and hiring two new employees.
The Growth Hub Advisors also signposted Jenny and Jason to Newcastle Borough Council, who helped them to find a suitable retail premises on Merrial Street in Newcastle. The new store opened in April 2015, and the Borough Council helped to promote the launch, making introductions and offering support.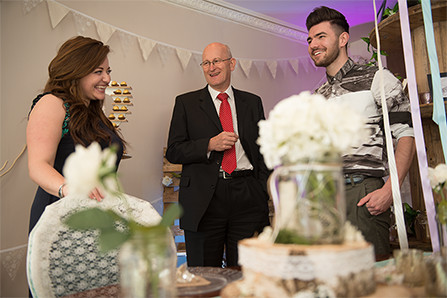 Jenny, who is a Textiles graduate, and Jason, an Art graduate, have always dreamt of running their own business. Jenny said: "The store opening is the result of a lifelong dream for me and my brother. We've always been creative types and to be able to put our skills to good use by helping people have their dream wedding or party is amazing. I wouldn't want to be doing anything else."
Since the move the Lumiere team has continued to benefit from the business support offered by the BIC and the Growth Hub Advisors, with invitations to start-up days, networking opportunities and training schemes available.
Jackie Millward added: "The Small Business Grant has been an excellent scheme for SMEs to help with the associated costs of employing a new member of staff. The scheme has helped to fill a gap in funding requirements and has proved that smaller grants are needed to help start up businesses and SMEs."
The Growth Hub programme has been funded by the Government's Regional Growth Fund through Lancaster University, which led the creation of 15 new growth hubs across the UK. It has been designed to enable local companies to realise their growth potential by offering grant funding for expansion, capital equipment purchases, support for training, and research and development.
Jenny concluded: "Without the BIC, we wouldn't have been able to have a retail presence and grow like we have. Demand from clients far outstripped what we could offer from the old premises. Our new premises offer a stylish, relaxed environment where our customers can come to see us and try out some ideas for their event. The BIC have supported us all the way – neither of us had run a business before and their advice and help has been brilliant."
David Frost, Chairman of the Stoke-on-Trent and Staffordshire Local Enterprise Partnership (LEP) commented: "We have a thriving creative community in Stoke-on-Trent and Staffordshire, and being able to support and nurture that creative talent is vital. From our strength and heritage in the global ceramics industry, to the entrepreneurs like Jenny and Jason; we are keen to support creative businesses across our LEP area. By securing a Small Business Grant, Lumiere has been able to grow and bring additional creative employment opportunities to the area, which we wholeheartedly support."