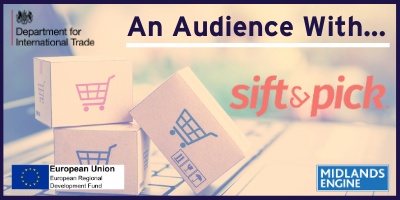 ---
An Audience With... Sift & Pick: An online marketplace in Singapore
September 22, 2020
Online Webinar
9:00am - 12:00am
"An Audience With" is a practical series of webinars hosted by the Department of International Trade to give you the chance to explore a range of global e-marketplaces helping you sell to the world, online.
Sift & Pick is an omnichannel, online marketplace based in Singapore. It started in 2018 centred around letting shoppers discover brands and products that are original and of uncompromising quality. Built by shoppers for shoppers, every product is lovingly handpicked by working directly with brand owners and designers, allowing Sift & Pick to bring authentic, under-the-radar designer goods closer to individuals.
Sift & Pick now partners with more than 250 global brands to carry over 6,000 fashion, beauty and lifestyle products.