---
#DoDigital Webinar: Digital Transformation
September 10, 2020
Online Webinar via Zoom @ 9.30am
9:30am - 12:00am
Digital Transformation: Where To Start?
"Digital Transformation" is a rethinking of how an organisation uses technology, people, processes and importantly its data, to fundamentally change organisation performance for the better. More precisely we should call it digitally enabled transformation.
RushKeep Solutions has a highly pragmatic approach to realising performance improvement, first understanding what is in place already – the 'as is' – and then working with clients to establish their preferred future outcome – the 'to be'.
Undertaking a programme of digitally enabled transformation can mean very different things depending on the situation of the particular organisation and may be initially about making best use of existing systems – in particular getting the right people in place and improving the quality of data to provide a strong platform to support an investment in newer technologies.
RushKeep has advice and tips to enable organisations to understand where they can maximise their existing investments – so how to improve upon what they already have in place – whilst planning for a step change when they are ready to do so.
Meet the Speaker: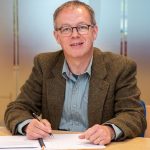 Charlie Houston-Brown – Founder of RushKeep Solutions
Charlie has over twenty five years' experience of improving business processes, particularly where humans and computers collide. Understanding that the importance of good quality data has always been a critical success factor improving business systems. Having delivered process improvements in a variety of roles across the world, Charlie is now operating locally to help businesses make the improvements they need, using his expertise to make recommendations along the way.