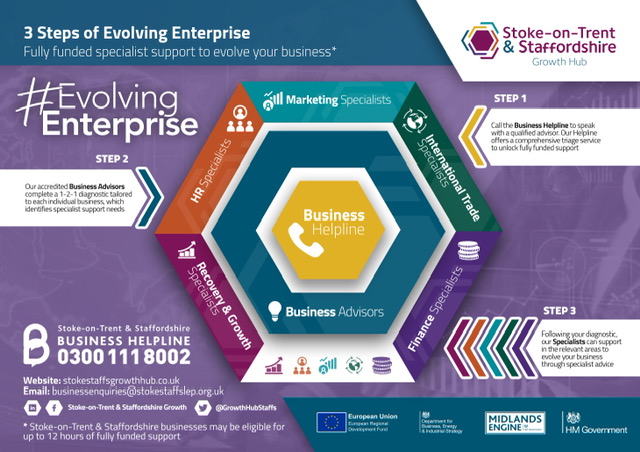 ---
Free Business 1-2-1 Support Clinics (face-to-face appointments)
November 30, 2021
The Marketing People, 3 Newlands Court, Attwood Road, Burntwood, Staffordshire WS7 3GF
9:30am - 2:00pm
Our face-to-face Free Business 1-2-1 Support Clinics are back and will be taking place in a variety of locations across Staffordshire. Our next one is in collaboration with Jonathan Percival of Lichfield District Council taking place within Burntwood.
Should I attend? If you answer yes to any of the questions below then yes you should attend, reserve your place now.
• Growing your business?
• Accessing appropriate finance and funding?
• Looking to develop your marketing and promote your business to new potential clients?
• Need to improve your productivity and increase profitability?
• Want an introduction to exporting and international trade?
• Recruiting and employing staff?
• Want some guidance on tackling regulation and cutting through red tape?
• Is your business looking to enhance environmental efficiency and business resilience?
• Are you in the midst of handling rural business issues?
• Dealing with premises and land issues?
This is a one-to-one appointment opportunity, private and confidential. We will contact you to arrange a suitable time for you to attend on the 30th November.
Our Growth Hub Advisors are people who understand the day-to-day pressures of running a business. They can work with you to overcome barriers, solve problems, and develop a strategy for growth. They all have specific knowledge of certain areas of Staffordshire and work closely with the relevant local authorities. We have several partner organisations where we can signpost you to look at grant funding and business support.
The Growth Hub has been established to play a major role in the drive for strong, sustainable business growth across Staffordshire. It acts as the focal point for businesses that wish to grow, providing co-ordinated and cohesive growth programmes, business networks, growth groups and links to specialist information, advice and services.
If you are unable to make that date and would like us to visit you on an alternative date, please click here to book a 1-2-1 appointment with an accredited Business advisor