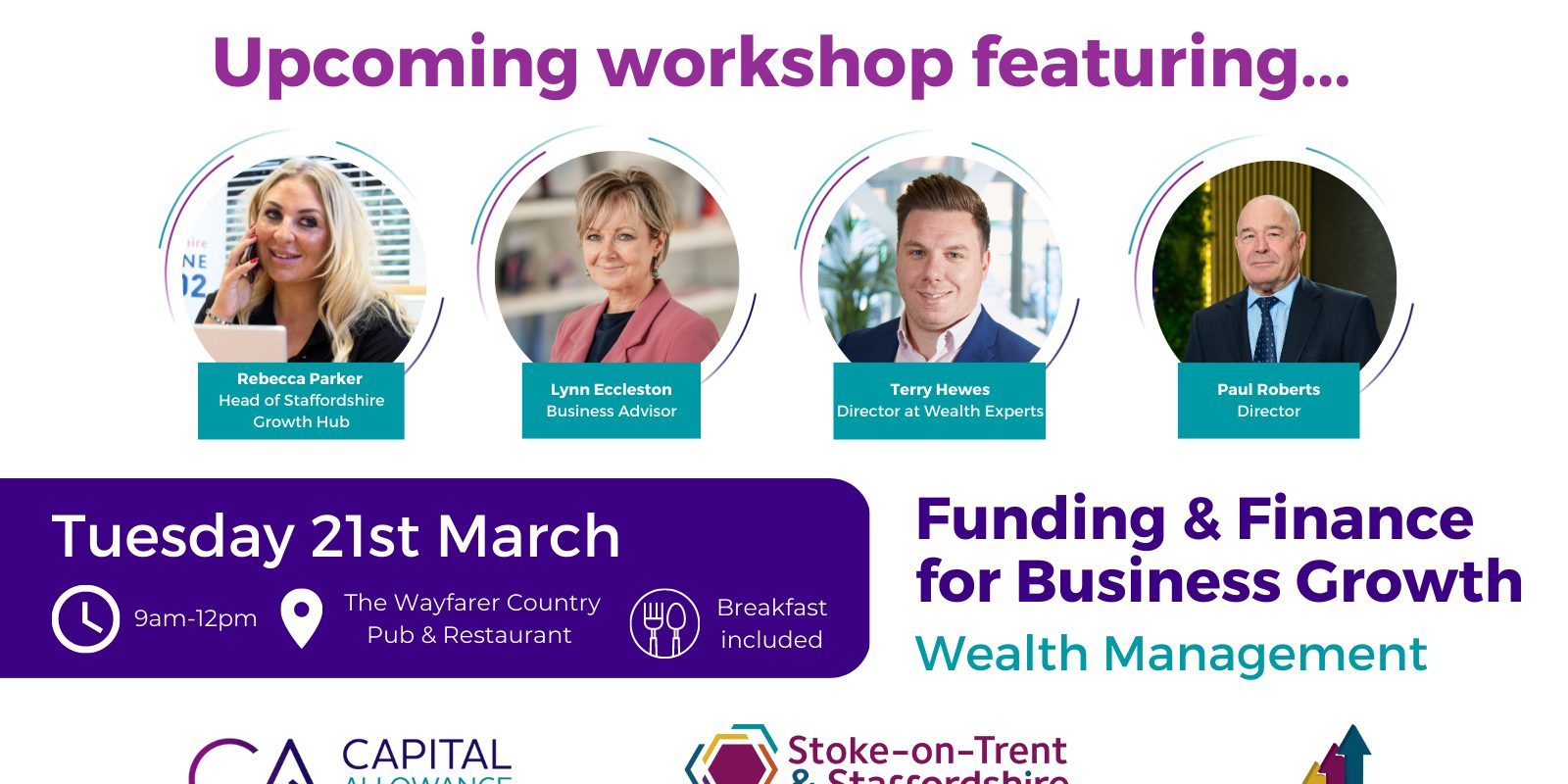 ---
Funding & Finance for Business Growth - Wealth Management
March 21, 2023
The Wayfarer Country Pub & Restaurant
9:00am - 12:00pm
Throughout the morning we will hear from 4 specialists about what can support and help grow your business, with a chance to network at the end.
Rebecca Parker (Head of Staffordshire Growth Hub) will open the event and discuss what the Growth Hub can do to support your business.
Terry Hewes (Director at Wealth Experts) will discuss and present to business owners regarding retirement planning, future planning, family inheritance, and pension considerations. Suzanne Shepherd will also be on hand to support and answer any questions.
Paul Roberts will present and discuss capital allowances.
Lynn Eccleston will discuss the current funding available across Staffordshire.
Final call for the grants below, come along to our masterclass to learn what grants are available across the county and how you can complete and submit a strong application.
Small Business Grant Scheme – Closes 31 March 2023
The Small Business Grant Scheme supports the growth of existing small and medium sized enterprises in the Stoke on Trent & Staffordshire LEP area.
It provides capital grants to businesses who trade B2B and have traded for at least 12 months, for the purchase of capital equipment or construction and fittings associated with the conversion, refurbishment or build of commercial business premises.
Grants are available for up to 60% of costs with a maximum grant of £10,000 and a minimum grant of £1,500.
Investment Readiness Programme Grant – Closes 31 March 2023
The Investments Readiness Programme supports the growth of local SMEs with funding towards professional costs in a variety of key areas, including business planning, financial projections and the preparation of a marketing strategy.
Grants are available for up to 60% of the cost with a maximum grant of £3,000 (minimum grants of £1,000)