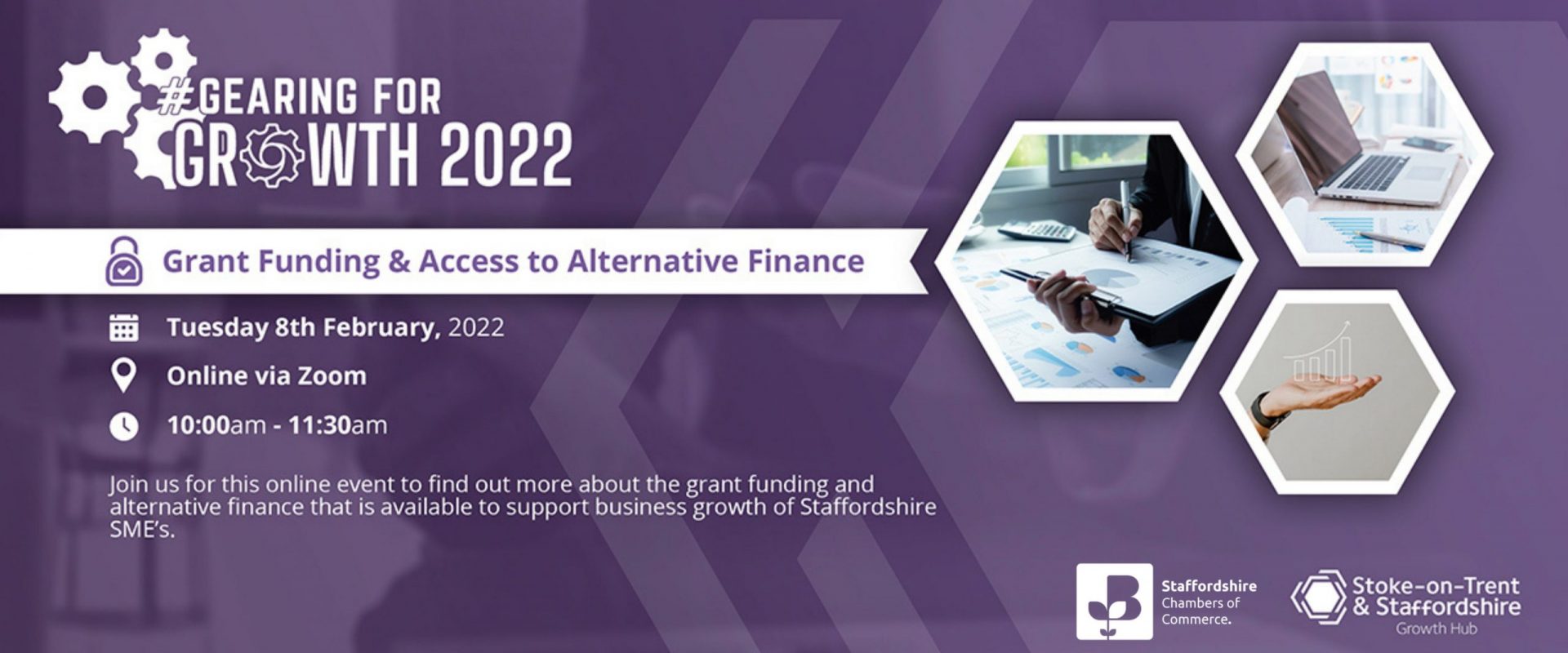 ---
#GEARINGFORGROWTH2022: Grant Funding & Access to Alternative Finance
February 8, 2022
Online Workshop via Zoom
10:00am - 11:30am
Join us for this online event to find out more about the grant funding and alternative finance that is available to support business growth of Staffordshire SME's.
Speakers
Midlands Engine Investment Fund and British Business Bank
The Midlands Engine Investment Fund (MEIF), supported by the European Regional Development Fund, provides commercially focussed finance through Small Business Loans, Debt Finance, Proof of concept and Equity Finance funds.
The Midlands Engine Investment Fund aims to transform the finance landscape for smaller businesses in the Midlands and to realise the region's potential to achieve economic growth through enterprise.
Midven – MEIF West Midlands Equity Fund
The £40m West Midlands Engine Investment Fund (MEIF) will primarily be invested by Midven in businesses located in these six West Midlands LEP regions which includes Stoke & Staffordshire:
Coventry & Warwickshire
Greater Birmingham & Solihull
The Black Country
Stoke & Staffordshire
Worcestershire
The Marches
Equity funding of up to £2m is available to businesses with potential for high growth across the West Midlands. Please visit https://midven.co.uk/funds/midlands-engine-investment-fund/ to apply.
Mercia Asset Management
Mercia is a proactive specialist asset manager with a focus on regional businesses seeking venture, private equity or debt finance to scale their businesses. We are exclusively a UK domestic investor, with focus on the UK regions and the business model is designed specifically to support the funding needs of companies through their journey from origin to exit.
Mercia's investments across its four asset classes are powering ambitious regional SMEs with the capital that they need to grow.
Maven Capital Partners
Maven is one of the UK's most active investors and has a long term track record of supporting a range of transaction types, including management buyouts, growth capital, buy and build projects, equity value release and pre-IPO financing through its MBO and VCT funds. Maven also manages various regional equity and debt funds which include MEIF Maven Debt Finance.
MEIF Maven Debt Finance can provide funding between £100k to £1.5m to SMEs based in East, West and South East Midlands. Funding is designed for small businesses that need capital to grow, and can support a wide range of business finance needs including: working capital; purchase new machinery; product development; capital expenditure; recruitment; new trading premises. MEIF Maven Debt Finance is also accredited to provide funding under the Recovery Loan Scheme (RLS).
The FSE Group
A £42m fund providing debt finance from £100k-£1.5m to SMEs, for a range of activities to facilitate growth. We focus on business potential rather than the security available and will work alongside SME business owners to help them achieve their growth ambitions
Kerry Haughton is an Investment Manager who, before joining FSE, spent 14 years working in various commercial and corporate relationship banking roles for Thincats and RBS, both onshore and offshore. Kerry is working to support SME growth in the West Midlands, focusing on The Black Country, Stoke-on-Trent and Staffordshire as well as Greater Birmingham & Solihull.
BCRS Business Loans
BCRS Business Loans was established as a non-profit distributing co-operative lender to support the growth of SMEs with a dedicated business loan fund. We provide loans from £10,000 to £150,000* to Staffordshire SME's.
Access to Capital and Revenue Grants
The Growth Hub and Staffordshire Chambers of Commerce Specialist Funding & Finance Advisor will be discussing eligibility for the Government Omicron funding provision distributed through local authorities, The Staffordshire To Thrive Grant, access to Capex & Revenue Funding, funding for digital implementation, new innovation and digital transformation.
Access 2 Funding
Access 2 Funding are nation wide tax specialists servicing England, Scotland & Wales with an in-house team of technical experts, chartered accountants and tax managers.
They can assist with Research & Development Tax Relief, Research & Development Capital Allowances (RDAs), Land Remediation Relief, Patent Box and Property Embedded Fixtures and Features Allowances (PEFFs).