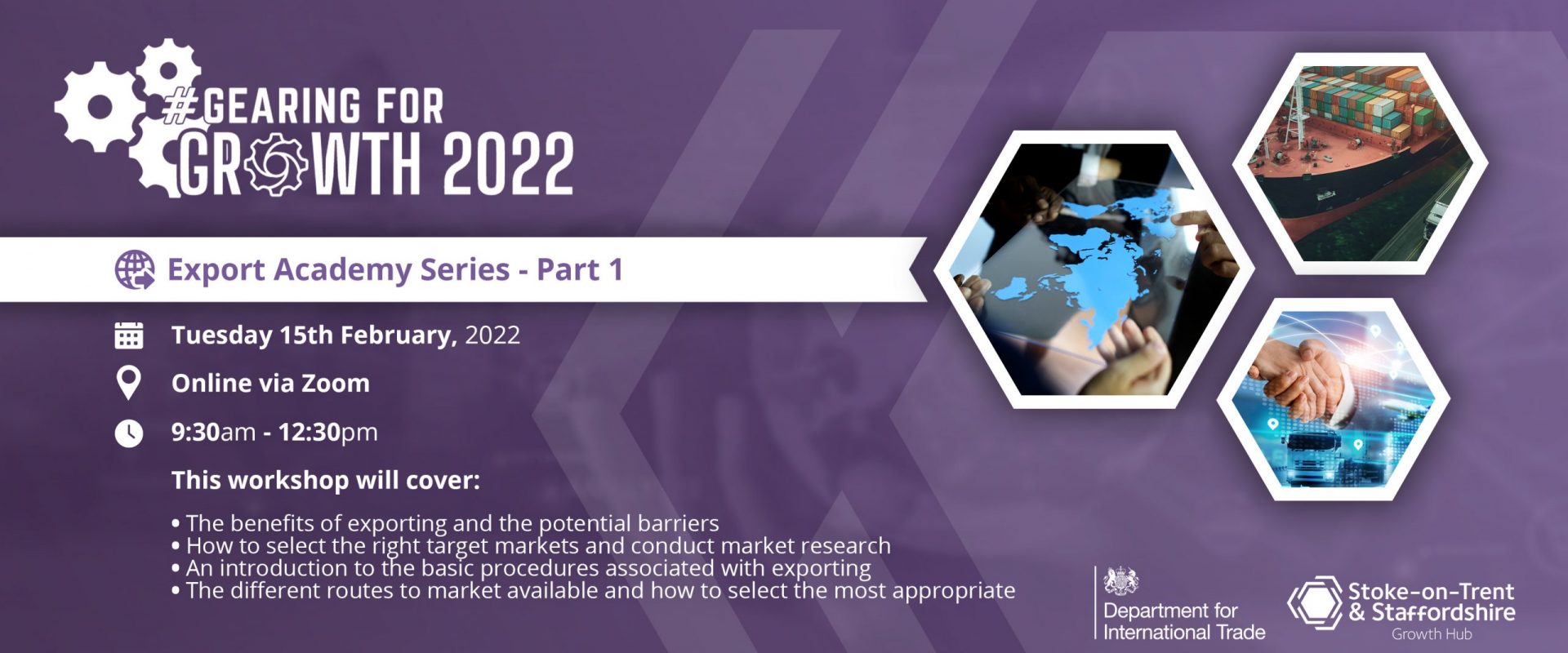 ---
#GearingForGrowth2022: Export Academy Workshop - Part 1
February 15, 2022
Online via Zoom
9:30am - 12:30pm
As part of our #GearingForGrowth2022 campaign, we have partnered with the Department For International Trade to deliver these free Export Academy workshops.
The Export Academy programme gives businesses the knowledge and expertise to export. Learning directly from experts at the Department for International Trade and a range of external specialists.
Research has shown that businesses are 11% more likely to survive if they export. The reasons for this range from spreading risk amongst different markets, to boosting turnover and improving innovation due to the requirement to develop products for specific markets.
What is included in the workshops?
Hosted by industry expert John Harrison from JH Marketing Strategy, these half day workshops are designed to be interactive and engaging, in order for businesses to reach their full potential in the exporting market.
Part 1:
The benefits of exporting and the potential barriers
How to select the right target markets and conduct market research
An introduction to the basic procedures associated with exporting
The different routes to market available and how to select the most appropriate options
Part 2: 
22nd February 2022 from 9:30-12:30
How to set the right price for your product or service
Understanding International Commercial terms
Customs procedures, tariffs and export controls
Managing money and getting paid
How to develop a strategic export action plan and successfully win business
Who can join?
The programme is for businesses working within the export function. In order to join this programme, businesses must be based within the United Kingdom. If you would like any further information please contact your Export Adviser. Alternatively, call 0345 222 0159 or email patrick.mccarron@mobile.trade.gov.uk for more information.