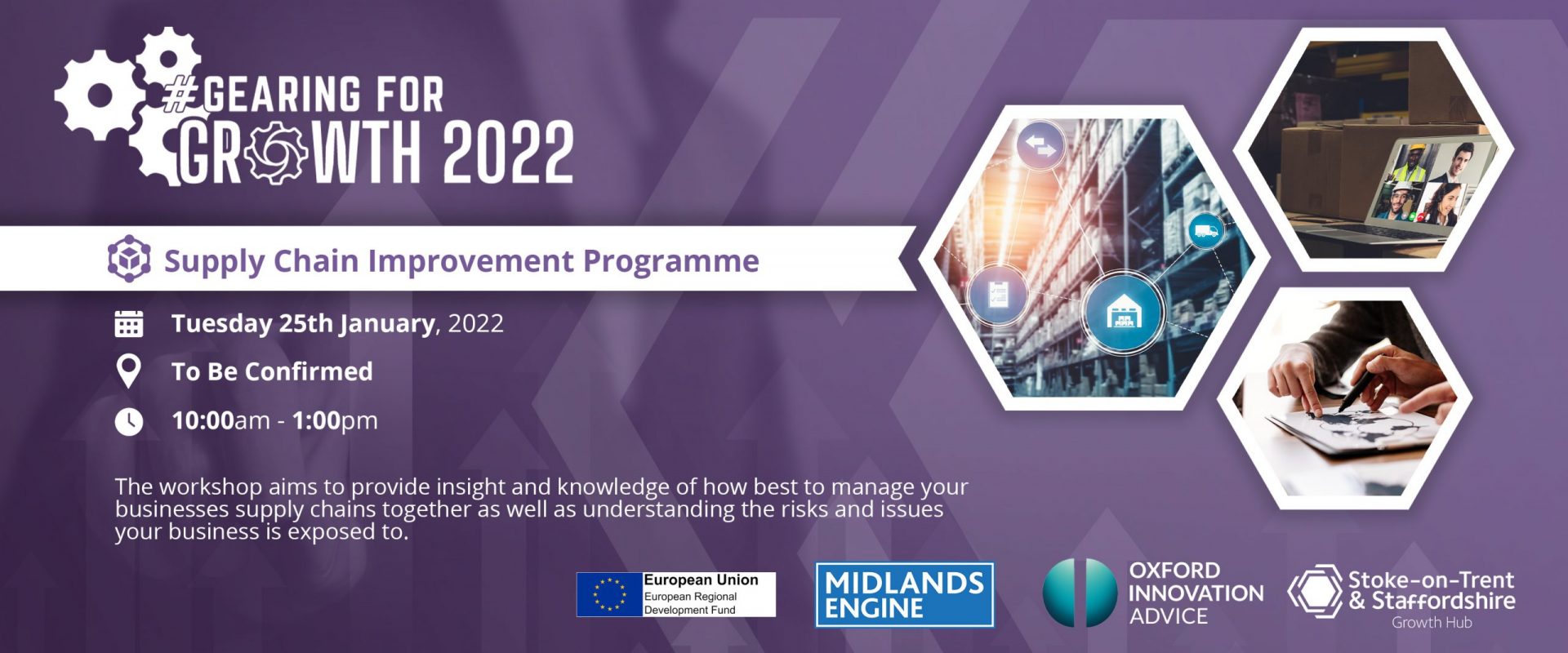 ---
#GEARINGFORGROWTH2022: Supply Chain Improvement Programme
January 25, 2022
To Be Confirmed
10:00am - 1:00pm
The workshop aims to provide insight and knowledge of how best to manage your businesses supply chains together as well as understanding the risks and issues your business is exposed to.
COVID-19 and the EU exit mean it's a turbulent time for Stoke-on-Trent & Staffordshire SMEs. Whether customer demand has lessened or suppliers can no longer satisfy orders, external forces are having an unprecedented impact on supply chains.
The Supply Chain Improvement Programme can help to get your manufacturing business back on track. Our experts will use their insight to help you take control of your supply chain, as well as mitigate risks and take advantage of the opportunities presented to you.
The programme has been designed has been designed to help future proof and increase the effectiveness and efficiency of your business. Benefits include:
Faster growth
Increased business value
Better collaboration with suppliers
Improved sustainability
The chance to address demand uncertainty
Boosted customer centricity
The programme is suitable for Managing Directors or Senior Managers within a manufacturing company based in Stoke on Trent or Staffordshire.
Our blended-learning programme means you'll benefit from both workshops and one to-one adviser support. There is also the opportunity to access grant funding!
1:1 support from an industry expert
After the workshop, the next phase of the programme includes 1:1 support which will help you implement a priority action plan for your business based on a Supply Chain Maturity Audit.  This information will help us develop a SWOT analysis and agree the areas where 1:1 support would really make a difference to you and your business.
A highly regarded programme
This session follows successful workshops delivered for Lincolnshire and Worcestershire Manufacturers. Feedback from online attendees rated the quality of the workshop and speaker delivery as excellent.
"The Programme made me realise how complicated our supply chain is and how it is seen as one department as opposed to across the business"
"Good explanation all the way through the workshop, delivered at a steady pace and very understandable".
"Thought provoking and very relevant to my business right now"