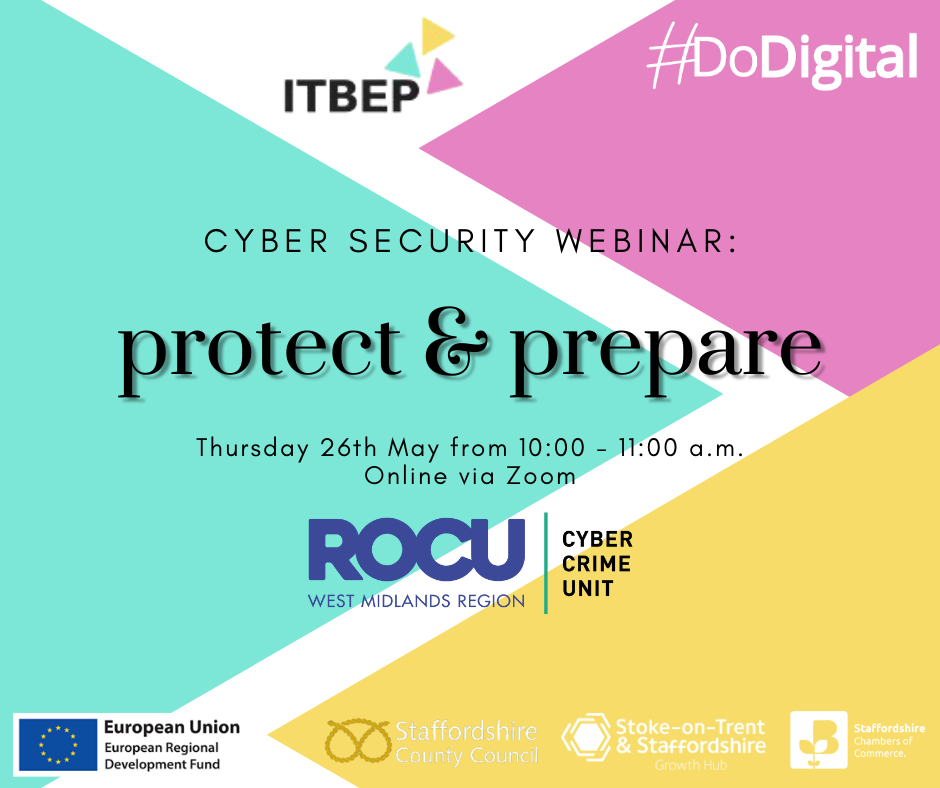 ---
Protect & Prepare - Cyber Security Webinar
May 26, 2022
Online via Zoom
10:00am - 11:00am
The Regional Cyber Crime Unit for the West Midlands (RCCUWM) covers the areas of Staffordshire, West Mercia, Warwickshire and West Midlands Police areas. Guided by the National Cyber Security Centre (NCSC), RCCUWM delivers an insight in to the National Cyber Security Program (NCSP) with the intention of making the UK Hostile environment for all Cyber threats.
The webinar will, deliver a Cyber Crime and Fraud masterclass in how to Protect and Prepare yourself from the technical threat in a none technical way to decisions makers and end users by;
Explaining the Policing Landscape
The current Threat, Risk and Harm posed from Cyber Crime and Fraud
Highlight the vulnerabilities from Open Source Intelligence and Social Engineering
Develop Self Help and Preparation skills
Stoke-on-Trent & Staffordshire Growth Hub's Business Resilience and EU Exit Advisor, Sam Beard, will provide an overview of his role; aiding companies identify risks to their business functions and how to produce a business continuity plan in an effort to mitigate identified risks.  He will also touch on his plans to produce a series of webinars working with external experts in specified fields, working in conjunction with Staffordshire County Council and the Civil Contingencies Unit.
Optional Additional? Input will touch on:
Cyber Security Issues and Raising Awareness with Staff
CEO Fraud
Cyber Frauds and Scams
Identity theft with regards to online footprints
Insider threat
Latest Password Management
Latest Trends, Threats and Vulnerabilities
Personal and Corporate Security
Open Source Intelligence
Spear and Whale Phishing, Smishing and Vishing
Public Wi-Fi
Reducing the Insider Threat
Social Engineering Tactics