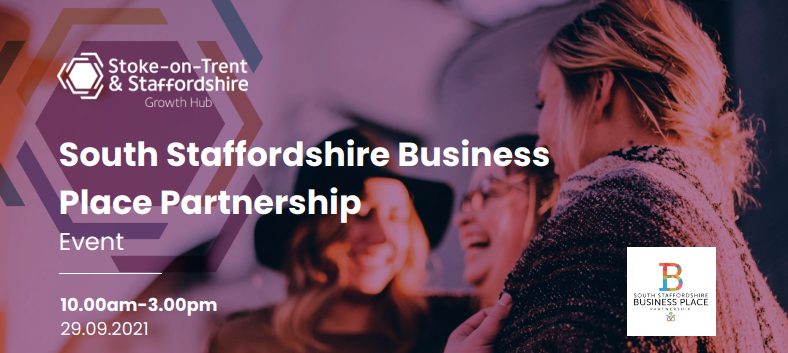 ---
South Staffordshire Business Place Partnership Event
September 29, 2021
The Enterprise Centre, Four Ashes, Latherford Close, Four Ashes, WV10 7BY
10:00am - 3:00pm
10:00am – 3:00pm
Our Business Support drop in clinics are back! Join us for our first face-to-face event of 2021, in collaboration with South Staffordshire Council to celebrate the launch of their newest site and the business support available within the local area!
Our accredited Business Advisors are people who understand the day-to-day pressures of running a business. They can work with you to overcome barriers, solve problems and develop a strategy for growth. They all have specific knowledge of certain areas within Staffordshire, and work closely with the relevant local authorities and Business Support organisations to ensure they are up to date on the variety of support options readily available to businesses.
They provide a highly personalised and tailored service by completing a FREE expert Business diagnostic, assessing your business goals and objectives ultimately helping your company grow through referrals to our partner organisations.
We will be joined by Wayne Dutton and Annette Roberts from South Staffordshire Council to  provide an insight into the South Staffordshire Business Partnership Programme.
Annette Roberts, Corporate Director Planning & Infrastructure offers a wealth of knowledge around business support and is always looking for new and innovative ways of helping businesses. Annette joined South Staffordshire Council in March 2020 and has been integral to the Coronavirus support offered to local businesses.
Wayne Dutton, Enterprise Team Manager, is very experienced within business support after joining the South Staffordshire Council in December 2020 from another local authority. Wayne has worked in designing a number of business support packages and is keen to interact with businesses to understand how support can be tailored to suit business needs. Wayne was integral to the design and implementation of the Business Place Partnership Programme and currently leads on this.
As part of the South Staffordshire Business Place Partnership Programme businesses are being asked to pledge their support, and South Staffordshire Council in return have pledged to provide businesses with the very best advise to support their needs, be engaged with businesses and offer advice.
This is also a great opportunity to view the limited number of units available to let at the Four Ashes site.
Refreshments will be provided on the day, and there is no requirement to book an appointment to meet with an accredited Business Advisor. We would just ask you to kindly register your interest should you be looking to attend, so we can ensure we are able to accommodate!