Workplace Health Staffordshire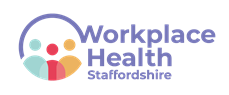 Staffordshire County Council are supporting businesses across Staffordshire to improve their staff's health and wellbeing.  (Please note, this excludes businesses based in Stoke-on-Trent).
They can offer your business a range of free support and guidance, including:
Workplace Health Staffordshire webpages
These webpages cover a range of health and wellbeing topics.  They highlight resources including toolkits, local and national campaigns, tools, websites, training and support services.
Healthy lifestyle support
Support your staff to get more active, stop smoking and lose weight, with Everyone Health Staffordshire's free 12-week programmes.  Restrictions apply.
Fully funded Mental Health First Aid (MHFA) training is being delivered by Altruist Enterprises.  Plus, free access to online suicide prevention training.
'Thrive at Work' Workplace Wellbeing Awards Programme
'Thrive at Work' is run by the West Midlands Combined Authority.  It's a free, structured awards programme, where your business is recognised for improving the health and wellbeing of your employees.
Stay informed
Sign up to the 'Healthy Workplace' newsletter to keep up to date with national and local campaigns, resources and guidance.
For more information, visit the Workplace Health Staffordshire Webpages.
If you're a small or medium business in Staffordshire and you would like to discuss further support available, please get in touch by emailing: WorkplaceHealth@staffordshire.gov.uk