Keele University's Student Knowledge Exchange Project
February 19, 2021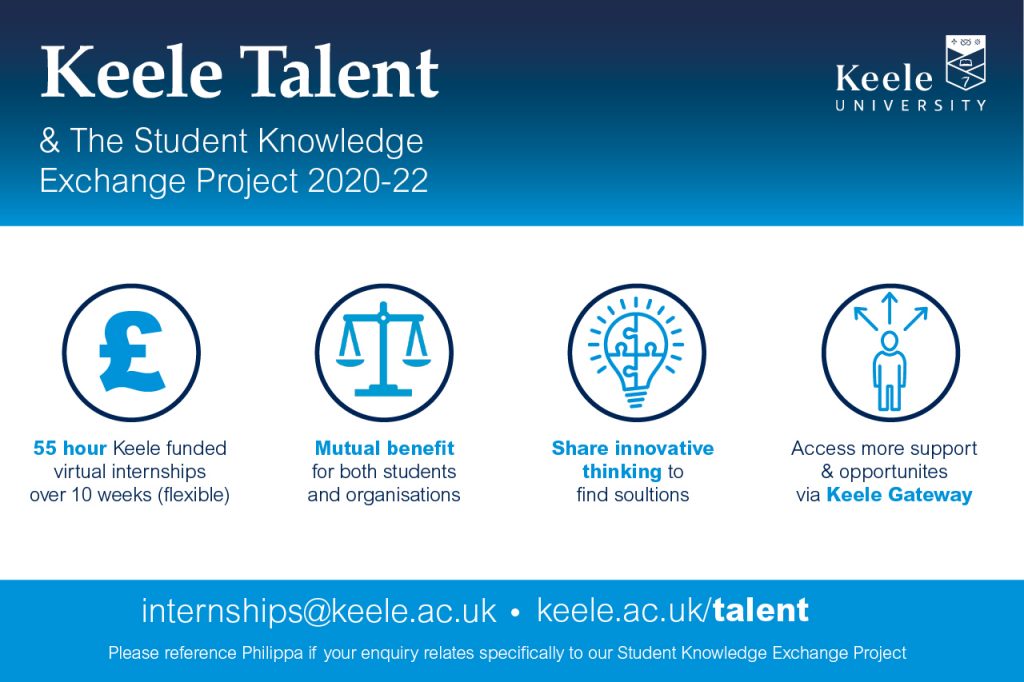 Want to add knowledge to your workforce? Lacking resources to enable your growth?
Looking to appoint fresh thinking to your team? Need expert insight to take the next step?
Keele University and The University of Birmingham have been awarded funding from the Office for Students and Research England to support students to undertake activity with businesses/organisations.
Available at no cost to businesses/organisations, our funding allows us to pay students a bursary to engage in an internship/consultancy with a business.
The project will offer civic internships, student consultancies, virtual placements, international opportunities, enterprise challenges, and curriculum design that embeds student knowledge exchange. The project will also propose an evaluative framework tool to analyse the impact of student-led knowledge exchanges.
What is it and how does it work?
A 55 hour virtual internship, fully funded by Keele University
Around 1 month turnaround for the student to be in place in your company from the when the opportunity is advertised
The university will advertise for you and shortlist no more than 5 for an informal interview with the host company
Students will work 6-8 hours per week, over approximately 10 weeks (flexible)
Students will receive £500 upon completion
An ideal opportunity to find solutions for short term challenges businesses are facing and discuss innovative ideas
Open to all sizes and sectors of organisations – including the not for profit sector
Open to all Keele students
Current live opportunities, referenced as Student Knowledge Exchange Projects can be found here: www.keele.ac.uk/careers/internships/internshipsforkeelestudentsgraduates/
FOR MORE INFORMATION AND TO APPLY CLICK HERE