Stoke-on-Trent & Staffordshire Growth Hub has invested in a cutting-edge online business diagnostic tool, GROWTHmapper® Recovery, in order to support small-to-medium businesses across Stoke-on-Trent & Staffordshire with recovery from the Covid-19 pandemic.
What is GROWTHmapper® Recovery?
The purpose-built diagnostic and planning tool was created by Oxford Innovation, supported by the Enterprise Research Centre. GROWTHmapper® Recovery is designed to minimise the risk of business failure by identifying the particular key priorities for each business, highlighting any necessary tactical approaches to creating stability.
How does it work?
Each management team within the business undertakes the GROWTHmapper® recovery online questionnaire. Taking just 15 minutes to complete, it examines 6 key areas: cash-flow, finance, market, demand capability, human resources and personal resilience.
The GROWTHmapper® Recovery report contains a series of charts that highlight relative strengths and weaknesses. This, together with a fully-funded 1-2-1 Diagnostic with an Accredited Business Advisor from Stoke-on-Trent and Staffordshire Growth Hub, allows a leadership team to check for consistency in their understanding of the challenges to agree priorities for action. The Business Advisor uses the report to facilitate a discussion that focuses attention on key actions and recovery planning, all adjusted to reflect the relative levels of crisis or resilience in each area of operations.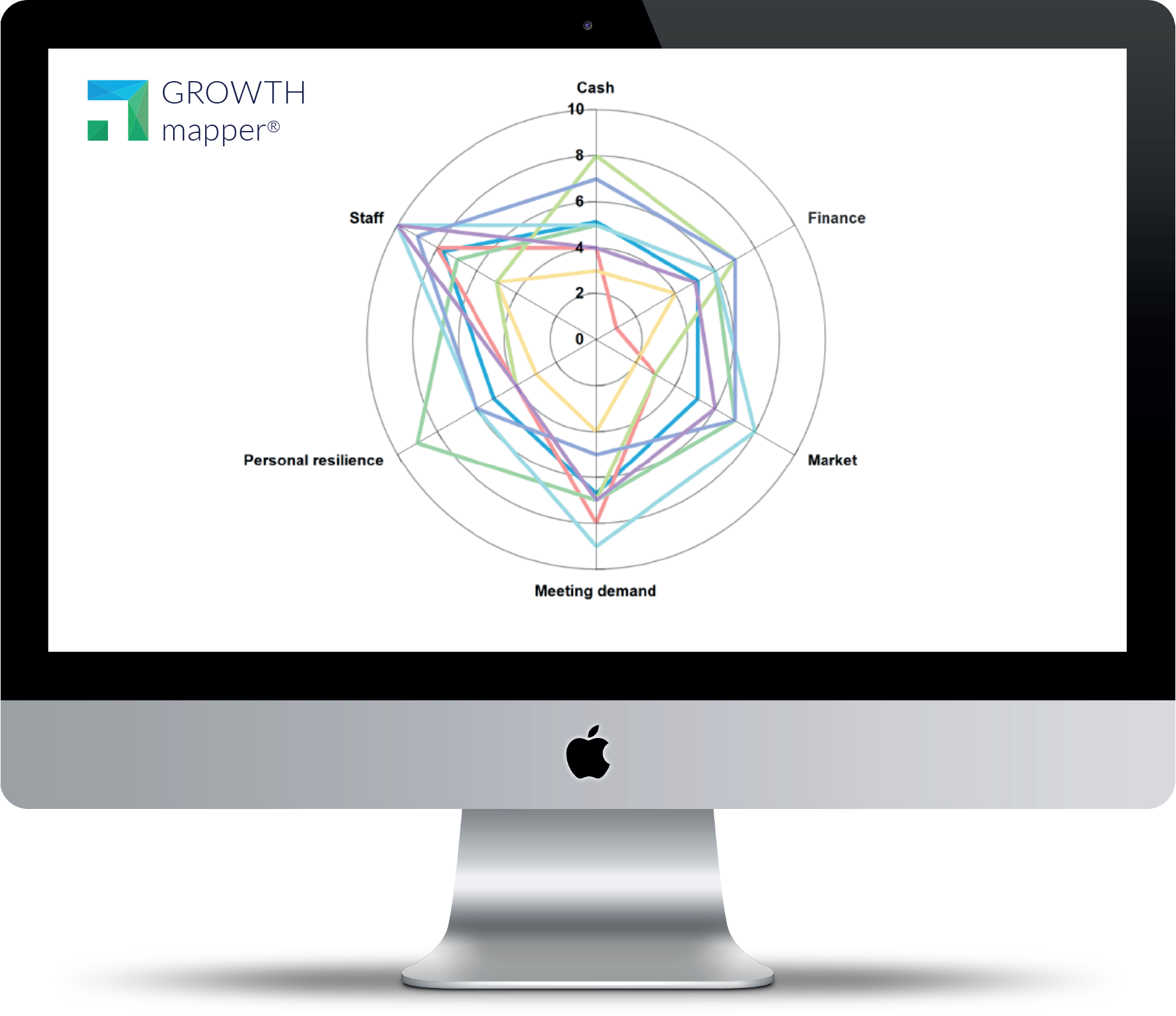 GROWTHmapper® Recovery uses a unique intervention matrix, which provides specific options for each business dependent upon their relative position on the pathway to recovery. These are created through analysis of each operational area in the context of the impact of Covid19 on the business.
Some Staffordshire SMEs that have completed the Recovery GROWTHmapper diagnostic with the Growth Hub (regaining market position after the Covid crisis) –
"It was very useful and certainly thought provoking and the report and presentation gave us some good ideas for a better approach to financial management.  It was easy to complete and I felt the quick-fire approach to answering the questions really drilled down on what we were thinking."  Managing Director, Maintenance Services
"It was a useful tool to help organise my many day-to-day concerns into one place.  I appreciated having validation of the choices I have been making to secure our business during the pandemic.  I appreciated having the one-on-one discussion and being able to receive an objective point of view on our business situation.  The Crisis/Coping/Recovery page is set out concisely with a very useful matrix of actions which can be applied immediately to our decision making."  Managing Director, Online Retail
Please fill out the below information to start the process of the recovery mapper. You will receive an email once completing the below form, containing a copy of the online questionnaire.