#EnjoyStaffsSafely this autumn at Donative Holiday Cottages
October 14, 2020

Country walks and doorstep adventures are on the agenda for visitors staying at Donative Holiday Cottages near Tamworth this autumn, with measures in place to ensure guests can enjoy a Covid-19 secure environment in line with current requirements.
The two beautiful barn conversions on a working family farm were included in the #EnjoyStaffsSafely initiative over the summer as part of a drive to showcase tourist attractions across the county and demonstrate how businesses have adapted to ensure visitors can stay safe.
And following new Government guidance, measures including 'the rule of six' are in place where needed.
Now, as families plan to make the most of their weekends and look ahead to the autumn half term week, Stoke-on-Trent and Staffordshire Growth Hub and Enjoy Staffordshire are encouraging people to adhere to the guidelines and #EnjoyStaffsSafely.
The project brings tourism, leisure and hospitality businesses together to celebrate everything the county has to offer, in line with national campaigns highlighting measures to contain the spread of coronavirus.
Residents and holiday-makers are invited to explore Staffordshire's stunning landmarks and hidden gems as the seasons shift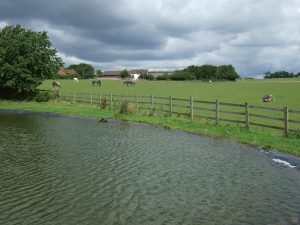 into autumn and a host of new activities and entertainments are planned – including attractions just a short drive from Donative Holiday Cottages.
Nicola Kent, Growth Hub Manager, said: "There is so much to see and do in Staffordshire and it's important we support our tourism, hospitality and leisure businesses, while following Government guidance to ensure we can all stay safe.
"That is why we joined forces with Enjoy Staffordshire to ensure both tourists and businesses in the sector can access the up-to-date information they need.
"Donative Holiday Cottages was an excellent example of how businesses introduced measures to ensure visitors could #EnjoyStaffsSafely this summer and we were delighted to include them as a case study."
Andrea Sammons from Enjoy Staffordshire said: "Staffordshire has so much to offer to both residents and visitors, with some lovely places to stay, eat out and explore alongside our fantastic attractions and activities.
"In the lead up to October half term we're delighted to be promoting the exciting things to see and do throughout the county and supporting businesses such as Donative Holiday Cottages as they continue to welcome visitors while working hard to ensure everyone can #EnjoyStaffsSafely this autumn."
A case study about Donative Holiday Cottages is available to view at: https://stokestaffsgrowthhub.co.uk/news/enjoystaffssafely-case-study-donative-holiday-cottages.
As part of the campaign, businesses across the county are urged to get the latest advice and support from the Stoke-on-Trent and Staffordshire Growth Hub, either online at www.stokestaffsgrowthhub.co.uk or through the business helpline: 0300 111 8002.
To find out what is open and how you can Enjoy Staffordshire safely this autumn visit www.enjoystaffordshire.com/safely.