Mi Rewards loyalty scheme rewards shoppers and diners as city centre reopens
April 13, 2021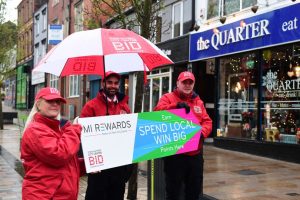 Stoke-on-Trent City Centre BID is encouraging locals support city centre businesses as they reopen – whilst getting rewarded for it.
The BID has introduced a city centre loyalty scheme – Mi Rewards – where shoppers, diners and visitors can sign up to receive points with every pound spent at participating businesses like The Potteries Museum and Art Gallery, Klay Pizzeria, NØRTH Kitchen + Bar, The Sugarmill, CJ Skelhorne Jewellers, the QUARTER and many, many more.
The Mi Rewards scheme is free and easy for consumers to get involved with as there is no physical loyalty card or smart phone app required, and registration can be completed in a matter of minutes here: https://mi-rewards.com/sign-up
To access incredible benefits, such as entries to monthly prize draws, exclusive and priority access to city centre events, half price local activities and 2-4-1 on meals out, customers need only simply create a Mi Rewards account online and link their chosen existing debit or credit card.
All purchases using these registered payment cards at any of the 31 city centre businesses that are signed up to the Mi Rewards scheme are tracked automatically and one point is earnt for every pound spent – much like a Tesco Clubcard – whether it is dining at The Orchard Bar and Bistro or the Hilton Garden Inn restaurant, shopping at Goodwins Jewellers, Vision Personalised Gifts or Stoke City Football Club, or enjoying experiences at XP-VR Virtual Reality.
For every ten points collected at registered businesses, the Mi Rewards customer is automatically entered into a monthly prize draw to win big: May's prize – of which the winner will be notified at the end of the month and will have 6 months to redeem – is an all-inclusive staycation for two at Hilton Garden Inn where the winner and a guest can enjoy an overnight stay in a king room, a three-course dinner with wine in their restaurant and a bottle of prosecco and chocolates for the room, plus breakfast.
Jonathan Bellamy, Chairman of Stoke-on-Trent City Centre BID, says:
"Loyalty is one of the most important attributes for a strong community, and never more needed than in our day and age. Hundreds of city centre businesses and thousands of local jobs are battling for their future, and they depend on local people to use their services and buy from them.
"With this in mind, we are excited to champion this new loyalty scheme, through which local people can actively show that they support our city centre businesses. But more than that, it's also an exceptional scheme that offers incredible rewards for people's loyalty! It's win-win!"
Josef Bailey, owner of the QUARTER on Piccadilly and BID Lead Director representing the Independents, is pleased to be supporting this new initiative for the city centre:
"Having looked into the success of the Mi Rewards scheme in other cities we felt it was a no brainer to sign up and get involved. In the current climate anything we can all do to help bring people through the doors and give a little back to them is most definitely a positive action.
"Whether you're popping in for take-out coffee and cake, enjoying a few cocktails in our outdoor area, or enjoying a three-course slap-up meal with us in our bistro in May and beyond, every purchase will earn you those all-important Mi Rewards points that will give you the chance to win big."
Sue Goodwin, owner of Goodwins Jewellers on Hope Street, is also backing the loyalty scheme:
"We're really excited to be giving out Mi Rewards points to our lovely customers. We think it's a great scheme to encourage people to be more mindful of supporting the local high street and the great thing about Mi Rewards is that you don't have to remember to show a loyalty card and you don't need an app. You simply need to pay with your debit or credit card as usual and it all happens behind the scenes.
"You'll see a sticker in our window to let people know that they will receive Mi Points when shopping with us."
Richard Buxton, Stoke-on-Trent City Centre BID Manager says:
"The business community in the city centre has grown from strength to strength over the last few years, but it still needs the general public's help and support to continue this momentum, particularly due to the pandemic and its effect on the economy.
"The Mi Rewards scheme really underlines the importance of shopping locally and supporting your own high street, and the best thing? People are getting rewarded to do it too – so there's never been a better time to get out, shop, dine and drink in our city centre.
"With non-essential retail and outdoor hospitality now open, and indoor hospitality and some entertainment venues to reopen as of next month all being well, and all remaining premises the following month, we encourage everyone to create a Mi Rewards account to support local businesses."
To view the list of businesses currently on the scheme and for more information,
visit Mi Rewards