Recovery Loan Scheme
April 12, 2021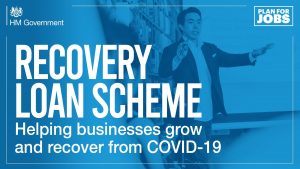 The Recovery Loan Scheme (RLS) will provide financial support to businesses across the UK as they recover and grow following the Coronavirus pandemic.
Loans will include 80% government guarantee and interest rate cap. Businesses ranging from coffee shops and restaurants, to hairdressers and gyms – can access loans varying in size from £25,000, up to a maximum of £10 million. Invoice and asset finance is available from £1,000.
The scheme will run until 31 December 2021, subject to review and be administered by the British Business Bank, with loans available through a diverse network of accredited commercial lenders. 26 lenders have already been accredited for day one of the scheme, with more to come shortly. Interest rates have been capped at 14.99% and are expected to be much lower than that in the vast majority of cases, and Ministers are urging lenders to ensure they keep rates down to help protect jobs.
The Recovery Loan Scheme can be used as an additional loan on top of support received from the emergency schemes – such as the Bounce Back Loan Scheme and Coronavirus Business Interruption Loan Scheme – put into place last year.