Stoke-on-Trent City Centre BID Unites with Local Business Community for the 'Giving Together' Campaign
November 1, 2023
Stoke-on-Trent City Centre Business Improvement District (BID) is thrilled to announce its partnership with the local business community for the "Giving Together" campaign, a heart-warming initiative focused on collecting food and toys for those in need during the upcoming Christmas season.
In the spirit of unity and generosity, the Stoke-on-Trent City Centre BID is leading the charge to make this holiday season a little brighter for families and individuals who may be facing hardship. The campaign, aptly named "Giving Together," is a collaborative effort between the BID and various local businesses to extend a helping hand to the less fortunate within the vibrant Stoke-on-Trent community.
This year, the Giving Together campaign will focus on two crucial aspects of charity: collecting non-perishable food items to support local food banks and gathering new, unwrapped toys for children who may not otherwise receive a gift this holiday season. By working alongside local businesses, the BID is committed to making a significant and positive impact in the lives of those who need it most.
The Giving Together campaign will officially kick off on or around Friday 1 December, when the BID aims to deliver participating businesses' boxes. The campaign will continue until Monday 18th December, giving local businesses ample time to contribute to this heart-warming cause.
"The Giving Together campaign embodies the true spirit of Stoke-on-Trent: a community that supports and cares for one another," said Richard Buxton, CEO at Stoke-on-Trent City Centre BID.
"Our collaboration with local businesses demonstrates our collective commitment to creating a brighter Christmas for those who may be struggling. We invite everyone to join us in making a positive difference this holiday season."
Stoke-on-Trent City Centre BID is encouraging all local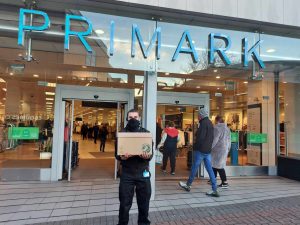 businesses to participate in the Giving Together campaign by donating non-perishable food items and new, unwrapped toys. Suggested items include but are not limited to canned goods, toiletries, selection boxes and non-alcoholic drinks.
For more information about the Giving Together campaign, local businesses are invited to email hello@stokeontrentbid.co.uk.