TRANSITION PERIOD: NEW RULES
January 8, 2021
The Transition Period has ended, a deal with the EU has been reached and the new rules are here…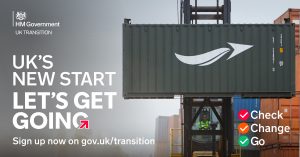 ACT NOW to keep your business moving.
Now the transition period has ended and the UK has left the EU customs union and single market, we can enjoy a zero tariffs, zero quotas relationship with the EU as an independent trading nation. Full details can be found here.
Following the signing of the UK – EU Free Trade Agreement, there are new rules for businesses which came into force on 1 January 2021 which require immediate action. Your business needs to act now to comply with these new rules. If you do not take action, there is a risk your business operations will be interrupted.
Alok Sharma, Business Secretary of State, says that the deal with the EU means the UK can now regulate in a manner that suits the UK economy and UK businesses – doing things in a more innovative and effective way, without being bound by EU rules. While the deal does secure tariff-free access to EU markets, he urges you to still check what you need to do to allow your business operations to run smoothly.
GOV.UK have devised a Brexit checker tool that quickly identifies and produces a personalised list of actions that you will need to take. The checker tool will ask you questions about your business and provide all the information you need to be aware of such as new rules on:
• Importing and Exporting
• Moving goods to and from Northern Ireland including Trader Support Service
• Travelling abroad for work
• Hiring staff from the EU