Chamber Appoints New Digital Specialist Business Advisor
December 3, 2020

Chamber Appoints New Digital Specialist Business Advisor
Working in Partnership with Staffordshire County Council Offering Fully Funded Support and Advice to Staffordshire SME's within the SSLEP area throughout the Digital Transformation period.
Staffordshire Chambers Of Commerce has appointed a New Digital Specialist Business advisor, Alan Bloomfield, working in partnership with Staffordshire County Council to support Staffordshire SME's within the SSLEP area throughout the Digital Transformation period offering Fully Funded Support and Advice.
An introduction to Alan –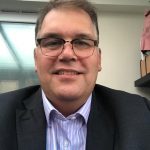 With over thirty years working for a Major Blue-Chip FTSE 100 Telecommunications Provider, I have extensive experience  ranging from hands on Engineering, Operations management and IT Consultancy in PBX and Network Telecommunications. Specialisms include Mitel, Nortel, Avaya and Cisco accreditation along with CI, Lean, Project (Prince 2) and Sales Management experience.
I have successfully implemented a £9.2m Digital Transformation of the Coventry and Warwick University Pilot, this transformed the "Learning journey" for the students from a "paper based" experience to a very dynamic "virtual journey"
I am now the Specialist Digital Business Advisor for Staffordshire Chambers Of Commerce , where I am using my technical expertise and ability to build relationships with key partners and clients and offer specialist guidance and support in the Digital Transformation journey that we are about to embark on.
The UK telecommunications voice and data network by 2025 will be moving from a traditional mixture of copper and fibre network to a fully embedded and integrated IP Platform. This will transform the speed and diversity in which business will interact, for those who do not make the most of the journey will be left behind.
"My role as Specialist Digital Business Advisor is to help and support businesses in making this journey, exploiting digital opportunities to grow , maintain and diversify during these uncertain times . I support businesses by working collaboratively with the alongside digital partner organisations to help drive the local prosperity".