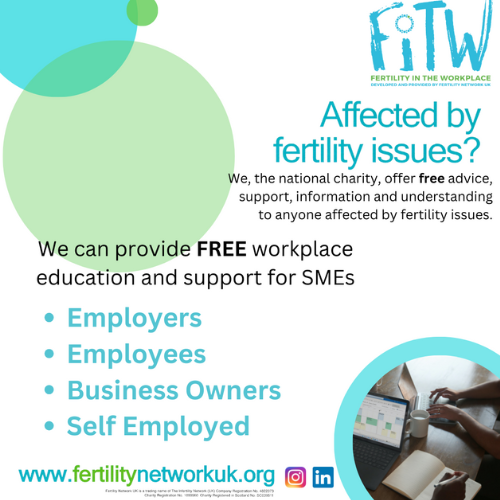 Fertility in the Workplace Support Package
September 11, 2023
Fertility Network UK is the nation's leading patient-focused fertility charity, providing free and impartial support, advice, information and understanding to the 3.5 million people across the country who are affected by fertility issues.
Workplace support for this medical condition, defined by the World Health Organisation as 'a disease of the reproductive system', is often either sparce or non-existent. Our Fertility In The Workplace team offer education and support to employers and employees who are looking to better understand what fertility struggles can entail for the 1 in 6 couples who are trying to navigate this condition, alongside their workplace commitments.
Thanks to VCSE Health and Wellbeing Fund, part of a partnership programme between Department of Health & Social Care, NHS England, and UK Health Security Agency, we are delighted to be able to offer free education and support packages to SMEs, self-employed and unemployed people across England.
This support includes:
Posters for staff rooms to raise awareness of external support available via Fertility Network UK.
Access to 1:1 support for employers, line managers, employees and self-employed.
Education on infertility and the impact this can have on people's work, mental health and general wellbeing.
Support in implementing workplace policies.
Free wellbeing programmes available to those facing fertility struggles and navigating workplace commitments.
To learn more and access support, visit: www.fertilitynetworkuk.org/fertility-in-the-workplace/